COMPOSITE BONDING WITH PLEXUS® ADHESIVES
Composite materials are defined as combinations of different materials to produce a new material with characteristics beyond the constituent components. The incorporation of glass fiber in a chemical resin as "fiberglass" often generalized as FRP (fiberglass reinforced plastic) is a very common composite, widely used in the transportation, wind, marine, and building component industries. The chemical resin may be polyester, vinyl ester, polyurethane, polyamide, epoxy, or other chemical polymers. Glass is the most common fiber, but Kevlar (aramid), basalt, natural fibers, and particularly carbon fibers continue to increase in use.
Composites are used to create lightweight, strong parts that are typically corrosion resistant. Composite to composite bonding is used to create more complex shapes. Bonding metal to composite with Plexus adhesives is an easy way to reinforce areas or include features like brackets. Bonding composite materials is a quick and easy process when you use Plexus adhesives. Our Technical Support team is available to help you pick the right acrylic adhesives for your projects.
Application Overview
There are two primary processes to produce fiberglass composites, open molded and closed molded. Each with its own advantages and disadvantages. Typical open molding processes include hand lay-up of the glass or fiber material, spray-up, and filament winding. Vacuum infusion, resin transfer molding (RTM), compression molding, reaction injection molding (RIM), and pultrusion are all closed molding processes where the fibers are placed in the mold and then followed by the resin.
Plexus adhesives have been specifically designed and are proven to bond parts made from most composite materials, with little to no surface preparation. Manufacturers often refer to Plexus as the best composite glue or composite welder based on how easily Plexus bonds composite parts.
How to use Plexus Structural Adhesives to Bond Composites?
New operators using Plexus adhesives are often surprised by how easy they are to handle. Training a new operator can happen in less than 30 minutes. This short video shows how to dispense a cartridge of Plexus adhesive:
Surface Preparation – Composite parts should be dust-free. A blast of clean shop air, wiping with a dry rag, or a quick solvent wipe can achieve this. Gelcoats or other surfaces that could contain mold release agents may require abrasion.
Why Plexus MMA vs. Other Adhesive Chemistries?
Plexus is a market leader in composite bonding with formulations for everyday to highly specialized niche applications. There are some clear advantages of Plexus MMA adhesives (acrylic adhesives) for bonding composites, notably:
Faster Production
Improved Durability
Ease of Use
Faster Production – Plexus adhesives speed up production vs. other chemistries by eliminating (or reducing) time spent on surface preparation. Plexus MMA adhesives also have a fast "snap cure" technology at room temperature, so they cure up to 3X faster than competing chemistries. Faster curing means producing more parts per hour.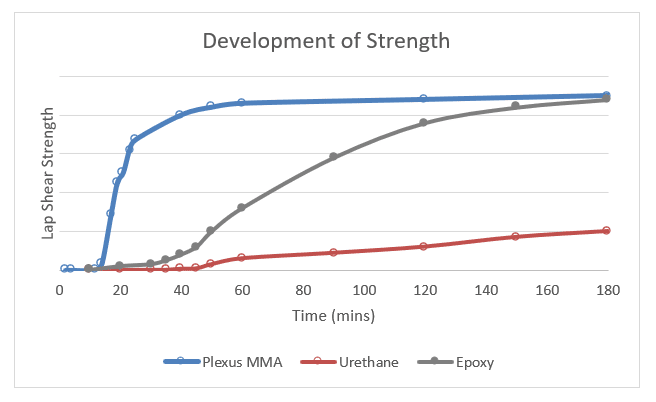 Improved Durability – Plexus acrylic adhesives offer an optimal balance of strength, elongation, and impact resistance. These traits help improve long-term durability and offer extreme fatigue resistance. Plexus offers up to 100X higher fatigue resistance against other adhesive types.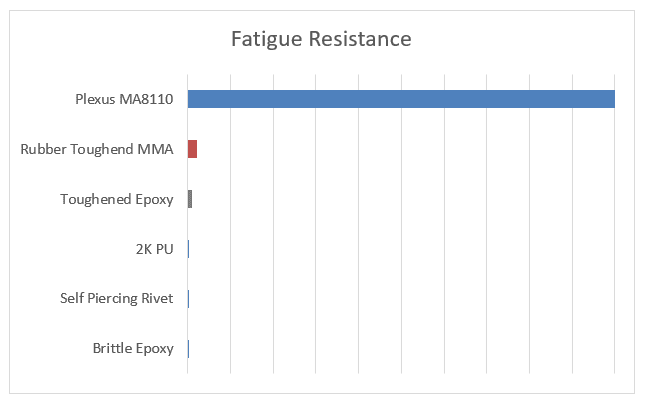 In comparison to fiberglass bonding pastes or putties, Plexus has superior impact & peel resistance, and maintains higher strength even at significant gap sizes. 
Ease of Use – Though all adhesives require a clean, stable surface for good adhesion, Plexus adhesives achieve robust adhesion over a broader range of surface conditions compared to other chemistries. Our acrylic adhesives reduce labor costs by reducing or eliminating excessive time spent on surface preparation.
Comparative Lap Shear Strength on Aluminum with Different Surface Preparation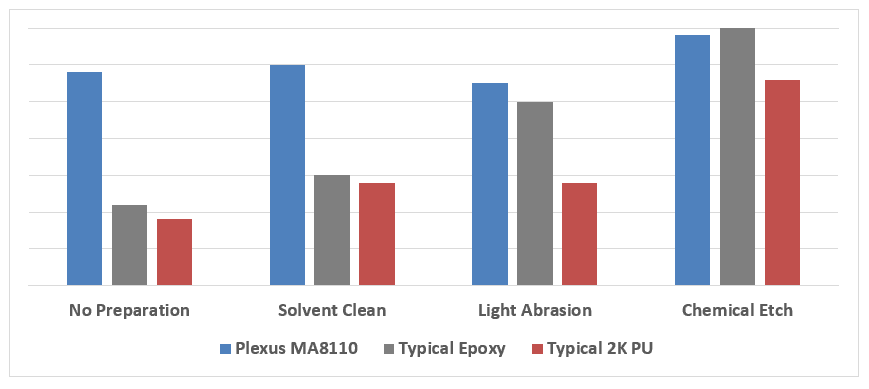 Plexus adhesives are very forgiving to off ratio mixing, which is very different compared to common 2-part urethane or epoxy technologies, as they require much more exact mixing proportions to achieve their designed properties. Plexus adhesives are designed with the end user and application in mind for rapid dispense and with non-sag properties – allowing for quick and clean overhead, flat and vertical bonding. Plexus acrylic adhesives remain in place during the dispense and assembly time to enhance efficiency and quality. Specific Plexus formulas have better non-sag properties than others, but all formulas have excellent shear-thinning properties that make them easy to quickly dispense, mix, and apply.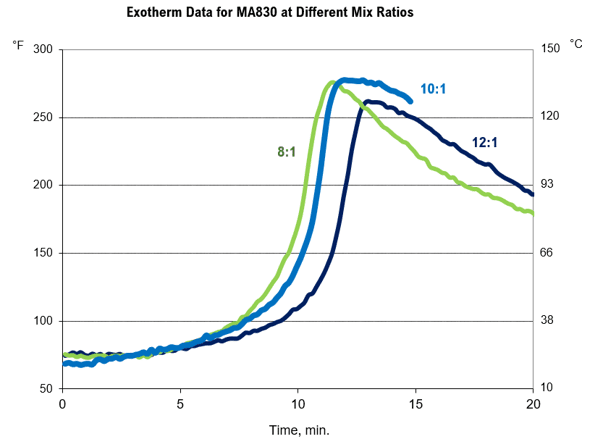 Design Recommendations for Structural Adhesives on Composites
Reducing Print Through – Bond line print through (sometimes called read through) refers to the situation where the adhesive "pulls" on the Class A side of the part creating a visible read where the bond has been made. There are a variety of factors that cause print through. Often reducing gap size (bond thickness) helps minimize print through. Removing excess squeeze can also help. Plexus also offers a range of "low print" products that are less likely to cause print through.
Limiting Peel Force – Plexus acrylic adhesives have excellent peel resistance, but like all adhesives, peel strength is well below shear, tensile, or compression strengths. Consider designing parts so they transfer loads via compression, tension, or shear to result in stronger and more durable structures.
Adhesive Selector Guide
Ready to start bonding composite material with Plexus? Click on the Adhesive Selector Guide to find the Plexus adhesives most suited for a particular composite system:
If you have any questions about our adhesives or a project you are working on, please don't hesitate to contact our technical service team.
Why Partner With Plexus Adhesives?
Plexus acrylic adhesives have been the top choice for bonding composites for decades. Durable structural bonds are made in even the harshest environments and service conditions with little to no surface preparation. In addition, our primerless to composite adhesives (sometimes called composite glue), have been qualified under rigorous automotive & transportation specifications & performance requirements and have a long history of success in the field.
Value Add Services to the Customer
Application Knowledge – Providing technical information and insight to answer engineering and processing questions for our customers.
Technical Support from ideation to production – Focused support with product experience to help assist with product related questions that help customers with existing and new projects.
Local Resources – Local sales managers are strategically located and available to provide fast, professional expertise, and supported by a vast distributor network with local inventory.
Guaranteed quality certified ISO 9001.
Technical Capacity:
Our Technical Service Lab is fully equipped for application and product testing.
Team of Technical Service Engineers to help answer questions, problem solve, and test our industrial strength adhesives on various materials including plastics bonding systems.