ADHESIVES - ELECTRIC VEHICLES
A Full-Range of Products for Electric Vehicle & Battery OEMs
As the demand for electric cars grows, designers are innovating with new and non-traditional materials and chemistries to achieve evolving performance targets for batteries in electric vehicles, as well as home and institutional applications for batteries – specifically, weight reduction, electrical & thermal management, and structural bonding. The Plexus, Devcon, and Insulcast range of products play an important role in overcoming engineering challenges.
Our family of electric vehicle & EV battery products are available globally, and bond most thermoplastics, metals, e-coat & powdercoat, pouch cell film, and composite materials, providing you with greater design freedom and manufacturing flexibility. The hybrid & electric as well as the EV battery adhesives and potting solutions require little or no surface preparation, promising excellent fatigue resistance, environmental durability, ΔCLTE accommodation for multi-material bonding, and thermal & electrical properties.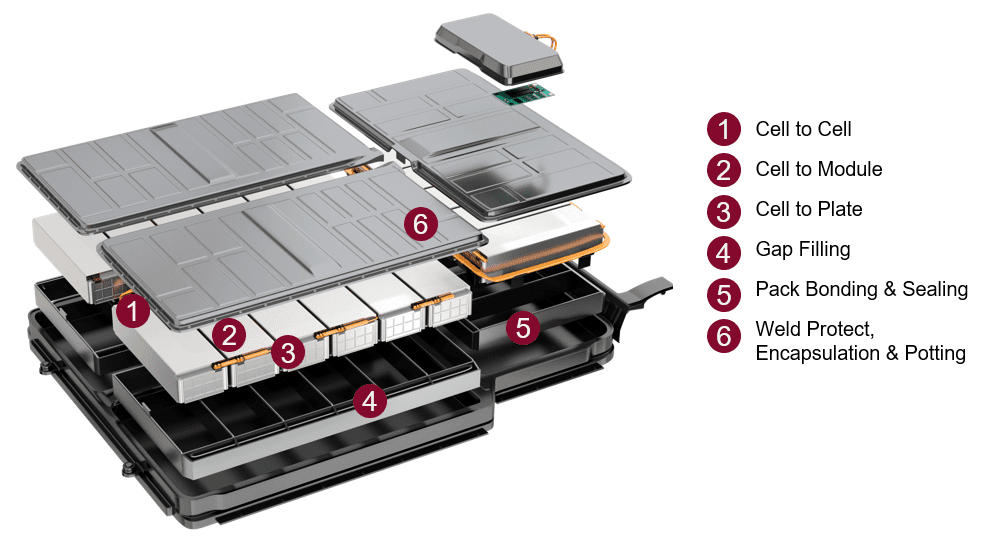 Whether the goal is more efficient manufacturing or better EV battery performance, Plexus adhesives help your team address a variety of difficult challenges:
Durability: Plexus structural adhesives have excellent strength, elongation and fatigue resistance. By distributing stress and reducing point loads, assemblies have superior long-term durability.
Lightweighting: Plexus structural adhesives have primerless adhesion to multiple substrates, so lightweight multi-material design is more easily accomplished.
Time Savings: Plexus products are designed for serial robotic application, and cure kinetics are optimized for fast room temperature cure, eliminating additional downstream processes. Primerless adhesion reduces process steps.
Flame Protection: Plexus offers products tested to UL94 V-0 or contributing to assemblies that are UL94 V-0.
Thermal Management: Plexus thermally conductive structural adhesives have a range of thermal conductivity properties, also providing structural and durability benefits.
Environmental Resistance: Plexus products are designed to withstand long-term environmental exposure. Durable adhesives extent the service life of electric vehicle battery packs and components.