PLASTIC BONDING WITH PLEXUS® ADHESIVES
Why and how do manufacturing companies use Plexus adhesives to bond plastic parts? Our team works closely with our customers to replace ultrasonic welding, mechanical fasteners, and design with Plexus structural adhesives because our "adhesive glue" is an easy to use plastic bonding solution. We provide full support in making the transition to a much more streamlined way of joining and bonding plastic material. Reach out to the Plexus sales and engineering teams for additional answers and insights on how our high strength structural adhesive glue can help bond your plastic applications.
Application Overview
Whether bonding plastic to plastic or other materials, adhesives are an essential part of the bonding process. Plexus adhesives have a rich history bonding thermoformed and injection molded plastic parts and are often considered the gold standard of "Plastic Glue." Key considerations for bonding plastics are the grade/type of plastic, environmental factors, timing, and the materials being bonded. 
Plexus advanced adhesives provide the strength, speed and durability required when joining plastic to plastic or plastic to dissimilar materials. Being versatile, many Plexus adhesives are primerless to most substrates and can easily cross bond with limited to no surface preparation making it the best glue for bonding industrial plastic applications. Increase your engineering and design freedom by using the Plexus structural adhesives that are strong yet flexible enough to withstand high loads and differences in thermal expansion while at the same time exhibiting high fatigue resistance.
What Plastics Are Compatible with Adhesives?
There are many distinct types and grades of plastics. We have some general guidelines for typical results, but we always recommend pretesting your specific plastic.
Plastics are separated into two major categories:
Amorphous plastics – e.g., PPO, Polycarbonate, Polystyrene, Kydex, PVC (Polyvinyl Chloride), Acrylic, and ABS
Semi-crystalline plastics – e.g., PET (Polyethylene Terephthalate), Nylon, PBT, Acetal, Polypropylene, Polyethylene, or Thermoplastic Polyolefins (TPO's)
Plexus is a global leader in bonding plastics, principally amorphous plastics such as ABS, polycarbonates, PVC, and acrylic plastics. Most Plexus MMA (acrylic adhesives) will adhere with little to no surface preparation. Semi-crystalline plastics are much more difficult to bond as they tend to be very inert materials (no available reactive chemical sites), or they have incredibly low surface energy (challenging to wet out and achieve intimate contact with the surface of the plastic).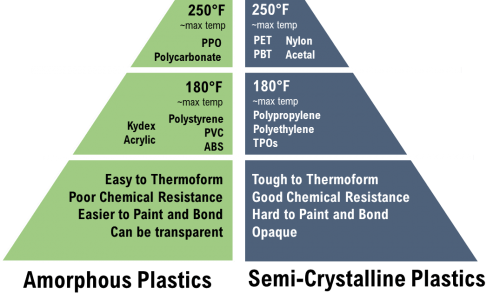 Why Adhesives Compared to Ultrasonic Welding?
Ultrasonic welding, where high-frequency vibrations heat up and fuse two pieces of plastic, requires high capital investments and complex designs. Below are the main reasons plastic molders switch from ultrasonic welding to Plexus adhesives:
Tighter Tolerances – The vibrations from ultrasonic welding cause plastic parts to have alignment tolerances between parts. Bonding with Plexus enables tighter tolerances for closer fitting plastic parts.
Lightweighting – Ultrasonic welding requires a minimum thickness to obtain structural parts. Bonding plastic parts with Plexus adhesives allows thinner plastic, reducing the part's mass.
Lower Capital expenditures – Dispensing equipment and fixtures usually cost less than ultrasonic welding equipment. Bonding cells can handle multiple parts, however ultrasonic welding needs separate equipment per part.
Simpler Designs – Ultrasonic welding requires weld-zones or ribs, increasing mold complexity. Plexus enables simpler (and less expensive) molds and allows for bonding plastic to metal (see Dissimilar Bonding Guide).
How to Use Plexus Structural Adhesives to Bond Plastic?
Operators using Plexus adhesives for the first time are often surprised by how easy they are to use. Training a new operator can be accomplished in less than 30 minutes. Here is a video showing how to dispense a cartridge of Plexus adhesives:
Surface Preparation:
Most plastics should be dust-free. A dry rag wipe or quick solvent wipe helps achieve this. However, certain plastics like a TPO might require more aggressive surface treatment to provide a bondable surface.
Design Recommendations for Structural Adhesives on Plastics
Below are some guidelines for reference when designing plastic assemblies with acrylic adhesives like Plexus adhesives:
Reduce Chance of Print Through – Bond line print through (sometimes called read through) is when the adhesive location is visible through the Class A side of the part. There are a variety of factors that cause print through such as heat or shrinkage. Often reducing the gap and keeping it close to 0.01″ (0.25 mm) helps reduce print through. Removing excess squeeze out helps as well. Plexus acrylic adhesives also have a range of "low print" products that are less prone to print through.
Gap Control – Designing standoffs to maintain a uniform gap and channels for excess squeeze out can help provide additional reliability in manufacturing.
Advanced Design Tips – Injection molders have design options in locators or snap features. Locators help with alignment, and snap features allow for an instant fixture while providing time for the adhesive to cure.
Why Partner With Plexus Adhesives?
Plexus structural methyl methacrylate (MMA) adhesives have a long history of providing durable structural bonds to plastic substrates. Our advanced acrylic adhesives have been qualified under many rigorous automotive & transportation specifications & performance requirements and have a long history of success in the field. Additionally, our primerless to plastic adhesives are capable of the harshest environmental & service conditions with minimal or no surface preparation.
Value Add Services to the Customer and Applications
Application Knowledge – Providing technical information and insights to help solve engineering and processing issues at the customer's job site.
Technical Support from Ideation to Production – Focused support with product experience to help assist with product questions for customers with existing and new projects.
Local Resources – Local sales managers are strategically located and available to provide fast, professional expertise, and support by our vast distributor network with local inventory.
Guaranteed quality certified ISO 9001.
Technical Capacity:
Our Technical Service Lab is fully equipped for application and product testing.
A Team of Technical Service Engineers to help answer questions, problem solve and quantify our acrylic adhesives on various materials including plastics bonding systems.
Click on the Adhesive Selector Guide to help you find the Plexus industrial strength adhesive most suited for a particular substrate: