Use this Quick Reference Product Sheet or Technical Bulletin as a handy epoxy grout process reference and to familiarize yourself with newly added product packaging information. Salespeople, estimators, and warehouse personnel at ITW, distributors, contractors and engineering firms have all found this Chockfast installation helpful in aiding them in their business needs.   
General epoxy grout installation steps using Chockfast
Step 1. After the concrete is fully cured, chip the foundation using a light duty, handheld pneumatic chipping gun with a chisel or moil type tool. The profile should be as aggressive as feasible and with at least 50% broken and exposed aggregate is visible.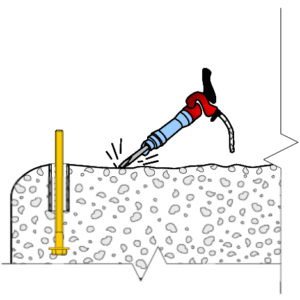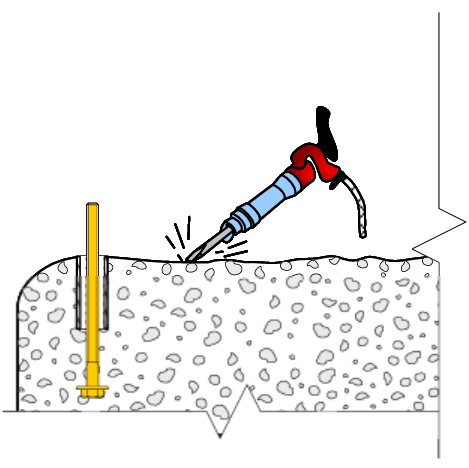 Step 2. Anchor bolts should be prepared with at least 10 bolt diameters embedded for anchoring and at least 12 bolt diameters for free stretch. The free stretch length of the bolt must allow stretch of the bolt and prevent bonding of grout to the bolt.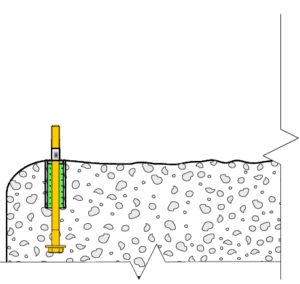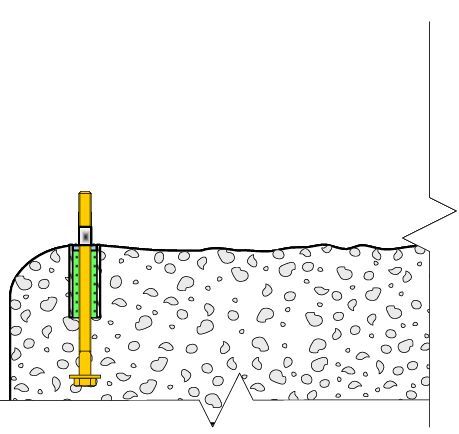 Step 3. Expansion joints should be included in nearly all large pours of epoxy grout greater than 7 ft (2.1 m). This allows segmenting of the pour and dimensional changes due to temperature fluctuations. Nominal spacing of 4-7 ft (1.2 – 2.1 m) is recommended and will depend on specifics of the application.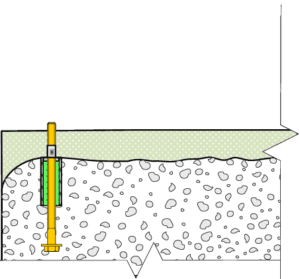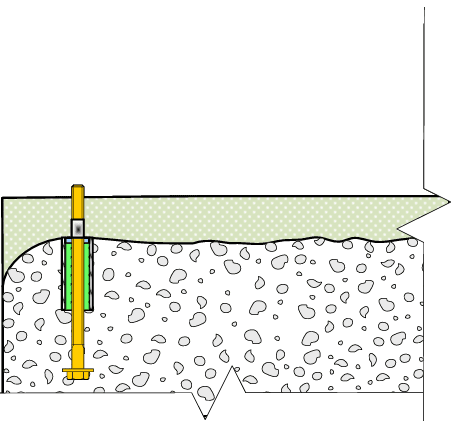 Step 4. All bonding surfaces should be well cleaned and free of any dust, dirt, oil, water, or other residue. Any steel surfaces should be near white, bare steel or coated with a high quality epoxy based primer.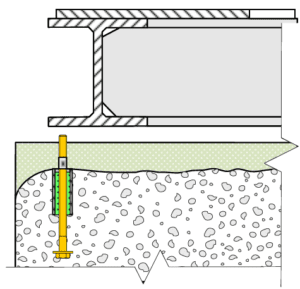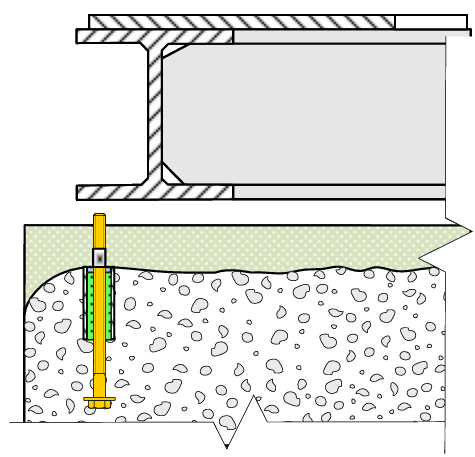 Step 5. Install and align equipment on foundation using removable alignment devices, such as jacking screws. Screws should be well coated with a non-melt grease and land on a rounded leveling plate, anchored to the concrete with a structural adhesive, such as Phillybond #6.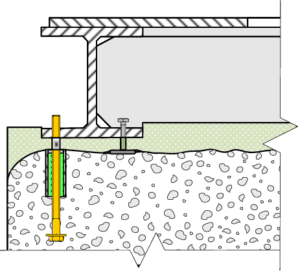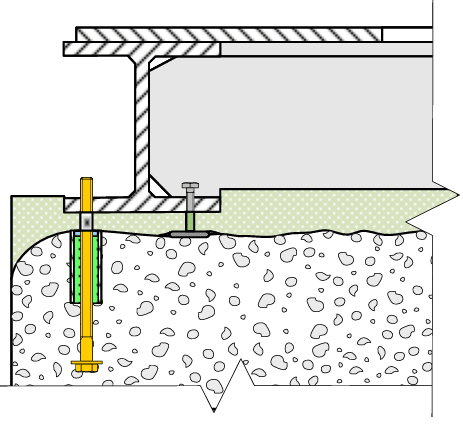 Step 6. Nuts should be hand tight on anchor bolts to prevent floating of base. Construct leak-free formwork to place Chockfast epoxy grout. Head boxes are recommended to provide hydraulic head pressure and aid installation. Coat forms with three coats of paste wax to prevent bonding.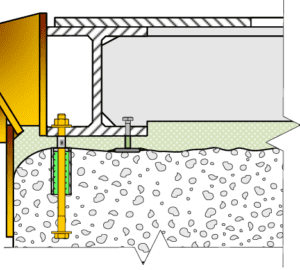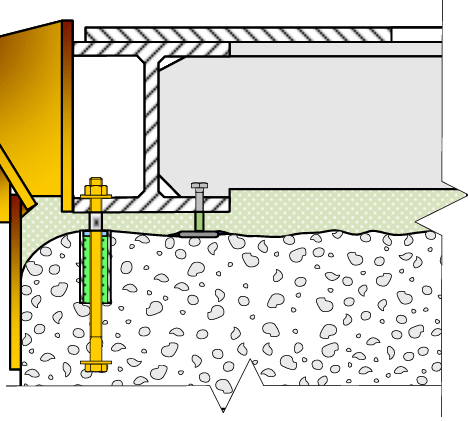 Step 7. Pre-condition the Chockfast components, mixing equipment, and application area to 65°- 95°F (18°- 35°C). All components should be at temperature at least 24 hours before use to ensure best mixing and installation.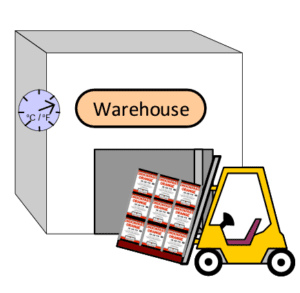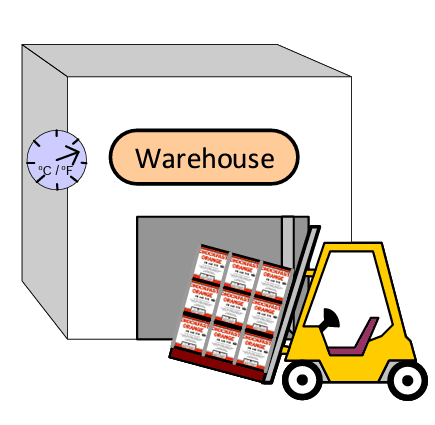 Step 8. Mix Chockfast epoxy grout liquids per Technical Data Sheet. Aggregate is added one bag at a time to the mortar mixer and only mixed until the aggregate is wet out. Place continuously from one direction until entire pour area is filled.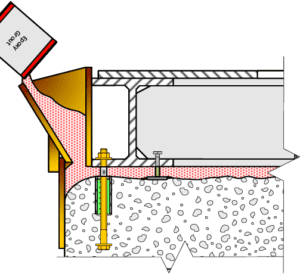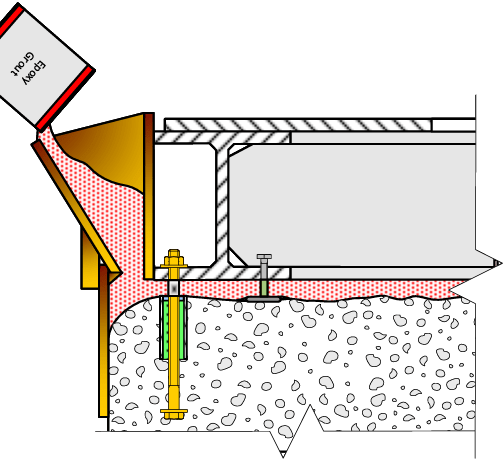 Step 9. After recommended cure time (based on exposure temperature) has elapsed, remove formwork and alignment devices. Tension anchor bolts. Equipment start up may now commence.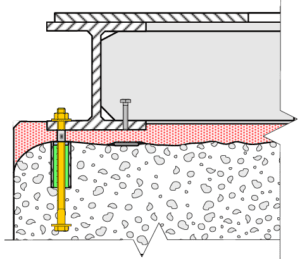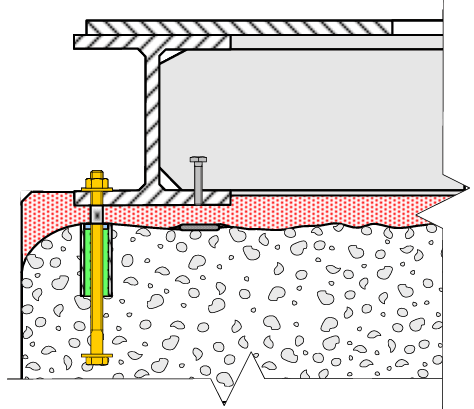 Protection & Accessory Products
PRC 100 Non-Shrink Cement Grout: ITW PRC 100 Non-Shrink Cement Grout is a high performance, non-shrink, precision grout that meets or exceeds all requirements of ASTM C1107. It is designed for a wide range of consistencies from damp pack to high fluidity, meeting the most demanding job conditions.
Devcon Ceramic Repair Putty or Devcon Brushable Ceramic: Repair Liquid or Putty Ceramic filled, high build, brushable or trowelable epoxy coating. Formulated for unequaled chemical and corrosion resistance with outstanding wear properties under adverse environments. Brushable version available in Red, White, or Blue.
Devcon Titanium Repair Compound: Titanum Repair Compound for high bond strength repair systems. Specific formulation providing industry with a fast, permanent repair to equipment even with joining dissimilar metals.
PhillyBond #6: Two-component, high strength epoxy paste for the repair of punctures, cracks, holes, voids, & to provide a smooth surface for repairs [temperatures up to 428°F]. Resistant to most acids, alkali & hydrocarbons and will adhere to metals, wood, & plastics.
ITW Release Agent: Prevents adhesion between most ITW products and surfaces of metal, glass, rubber and many plastics. It is used where the minimum possible clearance between resin and mating surface is required.
Chockfast PG-2089: Two-component, non-sagging epoxy mortar designed for general repair and maintenance. It is an effective adhesive to join concrete to concrete, masonry or dissimilar materials. It is useful as an adhesive to attach items to surfaces in areas where strength, waterproofing and durability are desired.
PhillyClad 1775/620TS: A specially formulated, low-viscosity, epoxy adhesive system designed for pressure injection repairs to concrete and adhesion of new concrete to old concrete.
MS-7CZ Metal Primer: HAPS free primer with specially formulated zinc complexes providing cathodic protection against corrosion. 71% solids heavy duty, anti-corrosive epoxy-polyamide primer which forms a tough abrasion resistant film that protects the substrate.
ITW Repair Compound: Two component epoxy paste for filling, smoothing, and fairing applications on metals, plastics (FRP), wood, or masonry. Non-sagging properties of compound make it easier for leveling rough or pitted plating, forming fillets, smoothing weld seams, etc.
Have questions on general installation steps or more specific applications? Reach out to our epoxy grout experts. We're here to help!
View all our Technical Data Sheets and Safety Data Sheets. Need some help? Ask a technical question and find a solution!   
Further reading: Laying The Foundation For Success With Chockfast® Epoxy Grouting and Critical Machinery Installation In Cold Weather? Find Out How To Plan For Success.
For more stories like this, follow ITW Performance Polymers on LinkedIn and sign up for enewsletter in our website footer.