At a coal plant, equipment and processes create dust or fumes that may be hazardous, especially in confined work areas. The fume outlet duct is used to transport the airborne pollutants from the processing plant to outside the building.
In this coal processing customers facility, fine coal dust at a temperature of 100⁰C / 212⁰ F was causing severe abrasion on the bottom portion of the fume outlet duct. This abrasion was so severe that it damaged the overall fume duct outlet performance and needed to be repaired quickly.
The challenges were that this repair had to be performed in a two-day window and had to be applied in a small confined, overhead space. The client was looking for an industrial strength epoxy solution that would withstand high heat and abrasive material exposure. With decades of success, the Devcon abrasion resistant epoxy coating proved to be the right solution for this fume outlet duct coating application.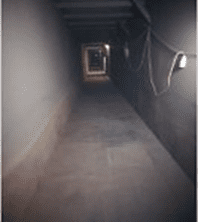 Industrial Strength Epoxy Solution for Time-Sensitive Application in Hard to Access Space
For optimal temperature and abrasion resistance, the client chose Devcon Wear Guard™ Fine Load and Devcon Ceramic Repair Putty to apply to the fume duct.
The damaged fume duct surface metal was abraded, exposed to white metal, and cleaned to provide maximum adhesion with the coatings.
Devcon Ceramic Repair Putty was applied to the very damaged lower portion of the outlet duct at a thickness of 6 mm to rebuild the surface material.
Devcon Wear Guard Fine Load was effortlessly spread over the prepared wall and ceiling surface of the duct with much less damage, pressing into any cracks.
Devcon Wear Guard Fine Load was applied to the area at a total thickness of 3 mm.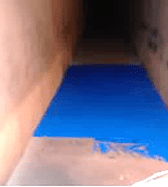 Results That Speak for Themselves 
Limits Equipment Downtime:
Making repairs to damaged equipment is typically time consuming and costly, especially without the right solution like the Devcon industrial strength epoxies. The Devcon repair systems were the right products, offering a fast and efficient way to rebuild and protect the fume outlet duct. The industrial strength epoxy coatings were easily installed with a two-person crew within the two-day downtime requirement.
Temperature Resistance:
The recovery cyclone faces extreme temperatures by collecting coal dust and corrosive fumes which have been heated throughout the manufacturing process. With Devcon Ceramic Repair Putty, temperature resistance is up to 150°C / 302°F in dry environments, which will effectively help protect the fume outlet duct from the high heat of the coal dust.
Easy Installation in Confined Area:
At this coal plant, the fume outlet duct is a narrow and confined space, posing an access challenge creating potential difficulties depending on the chosen repair solution. Devcon Wear Guard Fine Load and Devcon Ceramic Repair Putty afforded the customer a safe, easy to use and apply valued benefit. The industrial strength epoxy coatings were applied to the fume outlet duct – in less than two hours.