Learning the difference between epoxy grouting and epoxy chocking installations is easier when you learn the subtle differences between grouting systems and chocking systems. Grouting and chocking systems are both designed to withstand thermal shock, vibrations, and physical pressure, common in industrial installations.
A Grout is commonly defined as dense fluid which is used to fill gaps or used as reinforcement in existing structures or new structures. A Chocking system is a high load bearing material used to provide precise equipment alignment, dampen machine noise and vibration, prevent loosening of threaded bolts. A proven brand widely used in a number of applications globally that can be used as a successful example for each is the Chockfast brand of epoxy-based grout and epoxy-based chocks.
Chockfast three-component Epoxy Grouts consist of resin, hardener, and additional aggregate. The additional aggregate allows these materials to be poured in larger volume areas than the epoxy chocks. Recommendations for formwork and overpour dimensions are much more general than those for epoxy chocks.
Chockfast two-component Epoxy Chocks consist of resin and hardener and are typically used as "pourable shims." Volumes of individual chocks are limited due to the exothermic nature of the material, which results in very high physical strength properties. Recommendations for formwork and overpour dimensions are much more specific than those for epoxy grouts.
Consider this helpful reference chart on the Chockfast range of engineered epoxy grouting and chocking compounds: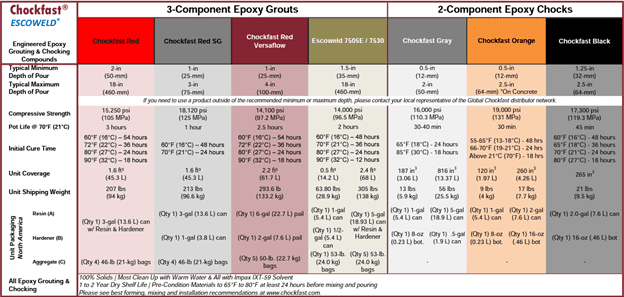 Chockfast Three Component Epoxy Grouts
Chockfast Red: Three component, high strength, 100% solids, epoxy grouting compound.
Chockfast Red SG: Three component, high strength, 100% solids epoxy grouting compound which is used to grout large machinery and to support soleplates.
Chockfast Red Versaflow: Breakthrough pumpable epoxy grout for alignment, support and vibrational dampening of critical equipment.
Chockfast Escoweld 7505E / 7530: Highly flowable, epoxy grout system engineered for use with dynamically operated industrial machinery and equipment.
Chockfast Two Component Epoxy Chocks
Chockfast Grey: Highly flowable, two-component, thin pour chock designed to maintain proper alignment and support of machinery and equipment.
Chockfast Orange: 100% effective bearing underneath supported equipment.
Chockfast Black: Two-component, deep pour structural epoxy chock.
If you have questions about Chockfast epoxy grouts and Chockfast epoxy chocks, reach out to our Technical Services team. We're available to help your team!
View all our Technical Data Sheets and Safety Data Sheets. Need some help? Ask a technical question and find a solution!   
Further reading: Cheat Sheet: Chockfast® Epoxy Grout Typical Installation Steps and Critical Machinery Installation In Cold Weather? Find Out How To Plan For Success.
For more stories like this, follow ITW Performance Polymers on LinkedIn and sign up for enewsletter in our website footer.