Pipe Wrap Repairs: The Importance
The reliability and predictability of piping systems are pivotal to the operational success of industrial equipment. Whether it be transporting slurries for further processing or used in water cooling systems – piping infrastructure keeps plant and processing activities running. However, these pipe infrastructures are constantly subjected to harsh external and internal conditions. Factors such as corrosion, moisture, fungal growth, and chemical attack cause wearing and leakage, potentially leading to equipment failures and replacement. Unlike many other equipment repairs, full replacement of piping is an extremely invasive process that requires extensive excavation above and beneath plant grounds. 
To deliver long-term protection from wear, abrasion, chemical attack, and corrosion, Devcon and Chockfast epoxy-based, wear-resistant coatings can be applied to susceptible piping structures to minimize planned and unplanned downtime. Thus, effective pipe wrap repair and pipe insulation is also known to be a cost-effective solution. At ITW Performance Polymers, the protective coatings and sealants we offer help your team go farther in maintaining and protecting your equipment.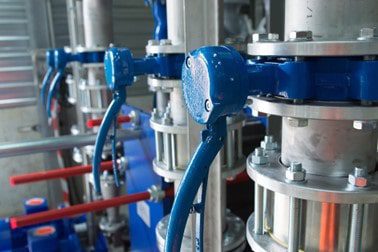 Devcon Coatings: Pipe Wrap Repair Solutions
Including a reactive pre-impregnated fiberglass patch, the Devcon Zip Patch can be easily applied to piping up to 25mm in diameter, rapidly repairing holes & leaks and temporarily preventing further corrosion and wear. After installing the fiberglass patch, the pipe repair area is sprayed with the activator and smoothed to desired thickness. With a full cure time under 2 hours, the Devcon Zip Patch is an outstanding solution for emergency repairs. The Devcon Zip Patch provides excellent adhesion to most prepared surfaces and depending on the problem, provides short or long-term durability to protect and combat corrosion, holes, and leakage to piping systems.
As a brushable liquid coating, the  easy to use Devcon Brushable Ceramic Blue pipe wrap repair solution is applied to coat and encapsulate critical piping at industrial plants. Devcon Brushable Ceramic Blue seals and protects piping from both internal and external damage, while also delivering durability.  As a versatile solution, it can be used as a standalone coating or with other compatible protective pipe wrap systems for enhanced protection.
To prepare the pipe surface, the pipe is abraded and then cleaned with Devcon Cleaner Blend 300, included in the Devcon pipe wrap repair system package. For optimal adhesion or shorten repair time, the surface of the pipe can be heated to rid the substrate of all contaminants and moisture. Devcon Brushable Ceramic Blue can then be easily applied to the piping via a utility paint brush. 
Devcon Brushable Ceramic Blue rebuilds and protects pipes of any diameter. It's a perfect solution for pipes susceptible to corrosive or erosive wear and the protective coating and sealant also comes in additional red and white colors.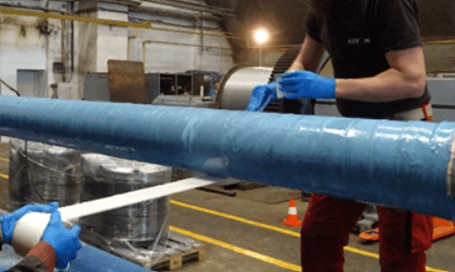 Chockfast Coating: Pipe Wrap Repair Solution
Chockfast Phillyclad 5066A is a heavy-duty coating that is also being utilized across industries such as oil & gas, shipbuilding, mining, petrochemical & steel plants to perform pipe wrap repairs and prevent further degradation. This type of pipe wrap coating can be applied to any size piping using a trowel or putty knife up to 6 mm thickness. The two-component coating can be smoothed simply using clean water, then the pipe can be put back to service in under 12 hours. 
Chockfast Phillyclad 5066A is an optimal pipe wrap repair solution, resisting corrosive and wearing damage to piping by sealing out contaminants. An easy and quick installation process further shows why this two-component coating is the optimal repair solution for your next pipe wrap repair job. 
Conclusion 
Reliability and predictability are pivotal to operational success. We understand the importance of protecting the piping infrastructure to your overall plant operations. We also understand that extensive maintenance repair periods are disruptive to productivity. In addressing these needs, ITW Performance Polymers has formulated a variety of different, highly durable, yet easy to apply coatings & sealants, that repair and help safeguard your piping systems.  
Looking to protect or repair your piping infrastructure? Contact our Technical Services department for more information on which coating solution is most suited for your maintenance and repair applications.
For more stories like this, follow ITW Performance Polymers on LinkedIn and sign up for enewsletter in our website footer.