In the mining industry, the conveyor belt has the crucial task of transporting raw materials throughout the plant for further processing. Over time, this piece of equipment faces frequent damage due to exposure to continuous wear and abrasion.
Problem
At a shale limestone mine, a main transport belt conveys limestone aggregate to the processing area of the plant. The lining of the transport belt, made of a flexible rubber material, faces infrastructure damage and abrasive wear from long operating hours and consistent transport of the heavy materials. Abrasive wear of the transport belt also resulted in multiple areas of the equipment facing damage. A quick repair of the belt was needed to address these issues and continue raw material transport and processing.
Operating Conditions
Daily equipment function time: 22 hours 
Daily transport belt output: 26,000 tons of limestone
Maximum application time: 2 hours 
Solution
This shale limestone mine successfully used Devcon R-Flex as a durable belt repair system to limit downtime of the main transport belt.
In preparation for Devcon R-Flex application, the main transport belt was cleared of all raw material surrounding the damaged area of the equipment. 
For optimal adhesion, the rubber surface of the transport belt was roughened into the rubber using an abrasive disc pad and cleaned with Devcon Cleaner Blend 300. 
Devcon R-Flex resin and curing agent were easily mixed and poured onto the damaged section of the transport belt. 
The industrial strength epoxy was then smoothed to desired thickness and left to cure for a total of 90 minutes.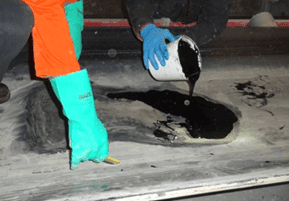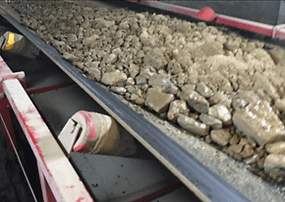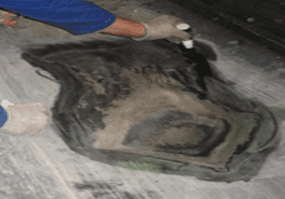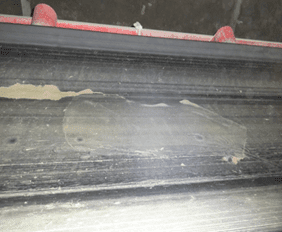 Project Outcome
Rapid Cure Time 
Maintaining equipment uptime was a vital factor when evaluating a product solution for this shale limestone mine. Devcon R-Flex was installed in under 2 hours, effectively adhering to the specifications of the plant. By maintaining equipment uptime with Devcon R-Flex, this processing mine was able to continue operations and maintain daily output requirements. 
Durable Rubber Repair 
This mine needed a product solution that could withstand the extreme process conditions of the main transport conveyor belt. Devcon R-Flex delivered on all fronts as a long-term durable solution. Conducting monthly maintenance check-ins this limestone and shale mine found that after a year, the main transport conveyor belt showed no additional signs of wear. With these successful results, Devcon R-Flex coating will continue to be utilized for belt repairs at the mine. 
Easy Application 
With a required repair time of 2 hours, a product solution with easy to apply instructions was vital. Devcon R-Flex was seamlessly installed by mine maintenance personnel following only a few mixing and application instructions. As a result, repair was kept under the required time limit and the belt returned to service quickly.